30 minutes to Island Thunderbolt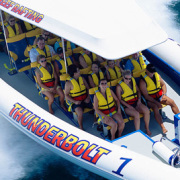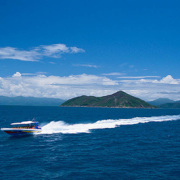 30 minutes to Island Thunderbolt
Fastest transfer & Great Fun!
Only 30 minutes to Fitzroy Island
Ocean Tramp included
FROM $84 PER PERSON
---
Inc. all levies & taxes

Thunderbolt Ferry Transfers
Show Rates FROM $84 per adult

Thunderbolt & Activity Pass
Show Rates FROM $99 per adult
30 minutes to Island Thunderbolt Info
Thunderbolt 30 minute transfers to Fitzroy Island. You will get wet!
Thunderbolt is one of a kind, travelling at 80 kilometres an hour, it is the first of a new generation of high speed reef boats.

Your day at a glance:

9.15am: Make your way to the Reef Fleet Terminal & check-in at the Fitzroy Ferries/Raging Thunder counter to receive your boarding pass and vouchers. (The Reef Fleet Terminal is located on the waterfront between the Pier & Hilton Hotel). As boarding closes at 9.45am, please ensure you are on-board prior to this time.
10.00am: Depart for a scenic cruise to Fitzroy Island with a crossing time of just 30 minutes, staying close to the calm waters of the coastline.
10.30am: On arrival at the island, please make your way to our Beach Hire Hut, next to the Jetty, to arrange a time for your Glass Bottom Boat tour or to pick up your snorkel equipment ).
10.30am - 2.15pm: Free time to explore the island and enjoy the use of Beach Hire equipment * including Paddle Ski's and our floating Ocean Trampoline. Alternatively, you may prefer to just stroll through the National Park walking tracks, visit famous Nudey Beach - or do nothing at all! The choice is yours!
NB: Snorkel gear and Beach Hire equipment is to be returned to the Beach Hire Hut no later than 2.00pm
2.30pm: Depart Fitzroy Island for your ferry transfer back to Cairns, arriving at approximately 3.00pm
*If passengers would like more time on Fitzroy Island you can choose to come home on the Raging Thunder large ferry at 4pm. This is subject to availability and only possible to arrange on the Island directly by visiting the Raging Thunder Beach Hire Hut.
Thunderbolt Superfast Ferry Transfers:
One way or Return Ferry Transfers on a high speed ferry
Use of Ocean Trampoline (seasonal)
Reef tax
Activity Pass 1:
Return ferry transfer
Choice of snorkel hire OR Glass Bottom Boat
Use of Ocean Trampoline (seasonal) & Paddle Skis
Picnic Lunch
Stinger/Sun suit
Reef tax
Activity Pass 2:
Return ferry transfer
Snorkel hire AND Glass Bottom Boat
Use of Ocean Trampoline (seasonal) & Paddle Skis
Picnic Lunch
Stinger/Sun suit
Reef tax
---
Lunch Options - Available with:
Fitzroy Ferry with Lunch package

Activity Pass 1

Activity Pass 2
Cold Options:
Double Smoked Leg Ham, Cheddar Cheese, Dijon Mustard, Tomato and Lettuce Focaccia,

Marinated Chicken Breast, Cucumber, Red Onion, Herbed Mayonnaise and Salad Wrap

Seasonal whole Fruit, Muesli Bar, Bottled Juice and Water

Vegetarian available on request
Hot Options:
Japanese Golden Beef and Potato Curry with Steamed Jasmine Rice

Seasonal whole piece of Fruit

Muesli Bar, Bottled Juice and Water
IMPORTANT INFORMATION
1 day pack per person – must be able to secure around legs during travel

You will get wet during travel from ocean spray

Not suitable for children under the age of 8 years old

Not suitable for anyone who is pregnant

Not suitable for anyone with Spinal & back injuries

No esky's allowed
Times
Check-in Reef Fleet Terminal at 9.15am for 10.00am departure – Berth A6 same as ferry
Travel time 30mins

About Fitzroy Island
Situated only 30 minutes from Cairns, Fitzroy Island is one of the most unspoilt islands on the Great Barrier Reef. From the Island you will be kitted up with lifejackets and snorkeling gear, ready to go on your first snorkel adventure.
Being a continental island, Fitzroy is covered with lush, pristine rainforest. Getting wet and exploring the coral reef surrounding the island, where tropical fish present a rainbow of colour, is as easy as stepping off the beach.
Bird life also abounds here, presenting a natural showcase not to be missed. If you want to explore an idyllic, unspoilt tropical paradise, your choices are plentiful with a day tour to Fitzroy Island.
Spend the day snorkelling the fringing coral reefs, strolling through the National Park rainforest walking tracks, or for the more adventurous hiker, discover breathtaking views of the island and surrounding reefs. There are hiking trails and guided walks as well as numerous water sports options available.