7 Day Cod Hole & Coral Sea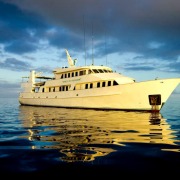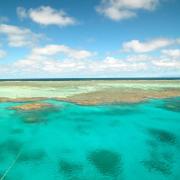 7 Day Cod Hole & Coral Sea
7 Day Cod Hole & Coral Sea
Departs Every Monday
Chef prepared gourmet meals
FROM enquire PER PERSON
---
Inc. all levies & taxes

7 Day Cod Hole & Coral Sea Info
Spirit of Freedom: 7 Day / 7 Night Cod Hole, Coral Sea & Ribbon Reefs
Sleek and spacious, the 'Spirit of Freedom' offers the best in live-aboard dive cruising to the Coral Sea and Ribbon Reefs.
This tour begins every Monday from Cairns, and travels 240km along the rarely visited Ribbon Reefs, to the Cod Hole.
Along the 'Ribbons' you will encounter clouds of colourful tropical fish, an incredible variety of vibrant healthy corals, giant clams, anemones, huge schools of cruising pelagic fish, and a family of giant potato cod.
Within your 7 days, you will also spend 2 days at Osprey Reef in the Coral Sea. An old volcanic atoll lying 220km off the coast, Osprey Reef is renown for its spectacular walls to 1000m, its massive soft corals, shark action, and exceptional visibility. 'North Horn' at the tip of Osprey is a site where grey reef sharks, silvertips, and the occasional oceanic congregate. Here you can also experience a close encounter with the Spirit of Freedom shark attraction dive.
This tour also includes an overnight stay in secluded Watson's Bay and a couple of hours ashore at Lizard Island. Return to Cairns 7 days later on the Monday morning.
---
What makes it Great?
Largest live-aboard dive vessel
Huge dive deck
Chef prepared meals
Complimentary Australian wines
Ensuite cabins with daily service
Nitrox Diving
---
Departures:
Departs: Cairns Monday 12noon

Returns: Cairns Monday 7:30am

The vessel is located at Trinity Wharf at the end of Lake Street, Cairns. Taxis and coaches can drive up onto the wharf to locate the vessel, which is usually berthed under the clock tower.
---
Trip Inclusions:
Transfers from Cairns City accommodation
Opportunity for up to 26 dives for Certified Divers. Tanks & weight belts provided
Chef prepared meals, Australian wine and soft drinks included with evening dinner
Ensuite Cabin with daily service
Reef Teach marine biology presentation
Reef tax
Towels (swimming and bath towels) provided, hairdryers
---
Vessel Features:
Spirit of Freedom is able to accommodate 26 passengers in 11 spacious cabins with a minimum of 10 crew
Sun deck with sun lounges on the top deck
Three decks of spacious comfort
Lounge area with coffee machine, resource library, flat screen TV & DVD
Fully stocked bar & dining saloon
---
Cabin Features:
Ensuite Cabin with daily service

26" flat screen TV & DVD player

Fully air-conditioned

Private bathroom

Wardrobe and under bed storage
Ocean View Standard Cabin:
Located on the top deck with internal stairwell access to the main deck, as well as external access to the top deck and dive deck.
It is 5.2 square metres in area (not including bathroom, an additional 2 sq mtrs). Double Bed.
Additionally Ocean View Cabin is a spacious 8.5 square metres in area
State Room:
Located in a private area on the lower deck, close to the dive deck and dining saloon. It is a spacious 9.2 square metres in area (not including bathroom, an additional 2.8 sq mtrs) and contains a queen size bed, extra shelving, bed side tables.
Standard Double or Twin Share Cabins:
Spirit of Freedom has six standard double or twin share cabins. Five of these cabins contain a double bed with a single bed over the top, bunk style, however one cabin contains just a double bed, so be sure to advise your preference for double or twin share when placing your booking. These cabins are located on the lower deck, with easy access to the main deck. They are an average 7.2 square metres in area, (not including bathroom, an additional 1.8 sq mtrs) and have bed side tables.
Quad Share:
Spirit of Freedom has two quad share cabins, each containing four single beds, bunk style. These cabins are located mid ships on the lower deck, with easy access to the main deck. They are each 7.2 square metres in area, (not including bathroom, an additional 1.8 sq mtrs
---
Extra Costs:
Scuba gear hire: By piece or by full equipment package: BCD, regulator with dive computer, wrist mount dive computer, wetsuits, torch and cylume sticks, and mask snorkel fins. Rental Cameras and Underwater housings are also available.
Nitrox fills
Any course taken on board
Drinks outside of the evening meal time
Any souvenirs purchased
---
ITINERARY:
Monday:
The Spirit of Freedom courtesy bus will pick you up from your Cairns hotel around 11:00am to transfer you to Trinity Wharf, where you will board the vessel. You will be greeted by the Spirit of Freedom crew, who will give you an orientation of the vessel before a 12 noon departure. Enjoy lunch on board while cruising to the outer Great Barrier Reef for an afternoon check-out dive and a twilight or night dive. After dinner cruise north to the Ribbon Reefs.
Tuesday & Wednesday:
These two days are spent diving at the most northern of the Ribbon Reefs, Number 9 & 10 Ribbon Reefs. Dive sites and sequence may vary depending on the weather conditions, but will always include at least one dive at the Cod Hole, where you encounter a family of massive and very friendly Potato Cod. Other sites may include Wonder-wall, Pixie Pinnacle, Challenger Bay, Two Towers, Lighthouse Bommie, and the Snake Pit, just to name a few. If the current is right, you may also take a drift dive at Dynamite Pass, well known as a channel for sharks to pass through. 4 to 5 dives will be available each day, including a night dive on the Tuesday.
On Wednesday evening overnight at Watson's Bay, Lizard Island, and enjoy a sunset BBQ dinner on the top deck.

Thursday:
This morning after breakfast you will have the opportunity to go ashore at Lizard Island. A good chance to stretch you legs on land at this half way point, you can take the guided walk from Watson's Beach to Mary Watson's cottage over Chinaman's Ridge and back to the beach. Around 11.00am cruise back to Ribbon Reef Number 10 for two dives at a choice of sites including the Snake Pit, Cod Hole, Challenger Bay, Lighthouse Bommie, Pixie Wall, and Pixie Pinnacle. If the tide permits you could repeat a dive at the Cod Hole or visit new sites.
Depart in the evening for a 10 hour crossing to Osprey Reef in the Coral Sea.
Friday & Saturday:
Two days will be spent diving Osprey Reef (weather permitting). Australia's Coral Sea reefs are renown for crystal clear water with visibility ranging 30 to 100 metres. The landscape is amazing with sheer walls laced with gorgonians, sea whips, and bright yellow soft corals, rising from the ocean floor thousands of feet below. 'North Horn' is a dive site at the tip of Osprey where grey reef sharks, silvertips, and the occasional oceanic congregate, and you can experience a close encounter with the Spirit of Freedom shark attraction dive. 4 to 5 dives will be available each day, including a night dive on the Friday.
On Saturday night depart Osprey Reef for overnight travel to the Ribbon Reefs.
Sunday:
At Ribbon Reefs Number 3 you will dive such sites as the sensational Steve's Bommie, Temple of Doom, and Flare Point. A second option for this day, in special weather conditions, is to head south from Osprey to Bougainville Reef, known for its unusual underwater landscape or caverns, and its partially submerged wreck.
On Sunday evening cruise overnight back to Cairns.
Monday:
Arrive back into Cairns at 06:30am. Enjoy a light breakfast on board and a group photo opportunity before being dropped back to your Cairns hotel around 08.00am.
---
Diving with Whales:

There are few opportunities in a lifetime where you can experience the thrill of sharing the water with a creature as magnificent as a whale. Spirit of Freedom, as an endorsed tourism operator, are allowed to offer a Swimming With Whales activity by GBRMPA. Divers and snorkellers, during the months of June and July, may have the opportunity to interact with Dwarf Minke Whales in the warm waters of the Great Barrier Reef. It is a unique and remarkable encounter.
---
NOTES:
SNORKELLERS: The reefs of the Ribbon Reefs are relatively close to the surface, and with little current, offer excellent snorkelling at most sites. However the (at times) deeper reefs tops and currents of the Coral Sea, make the Coral Sea reefs only suitable for experienced snorkellers and strong swimmers and you may not be able to snorkel at every site. Please note that while you be safe under the watchful eye of the 'look-out' crew, a snorkel buddy may not always be available.

Recommended Dive Experience Level: PADI Advanced or equivalent and above..

PHONE & EMAIL ACCESS: While on board Spirit of Freedom you can enjoy intermittent phone and email access, when in range along certain sectors of the Ribbon Reefs. While at the Coral Sea, and also the regions of the Ribbon Reefs that are out of range, they can only rely on satellite phone and fax communications.

FLYING AFTER DIVING: Spirit of Freedom recommends a minimum wait of 24 hours before flying after multiple dives. The last dive of the trip will generally be around 5:00pm the day before returning to Cairns. 24 hours is a guideline only and for maximum safety give yourself as long as possible. Please be aware that skydiving or a trip to Kuranda or the Atherton tablelands will include going to altitude. Please Note - Individual airlines have their own policies (24 to 48 hour minimum), and you should check with your air carrier.

This itinerary is a sample only and sites may vary or the sequence may change. Access to the Cod Hole and the Coral Sea is tide and weather conditional.
---
What to Bring:
Personal items and toiletries, swimwear, hat, and sweatshirt in the winter (May - September).

Casual attire during the day and smart casual for evening wear. For safety and comfort we encourage no shoes to be worn on board.

Certification card for Certified Divers
GOOD NEWS! All payments made to Travstar do not incur a credit card surcharge.
7 Day Cod Hole & Coral Sea Rates
Need Help With Your Booking?
Our Cairns Office is open again in 22 hours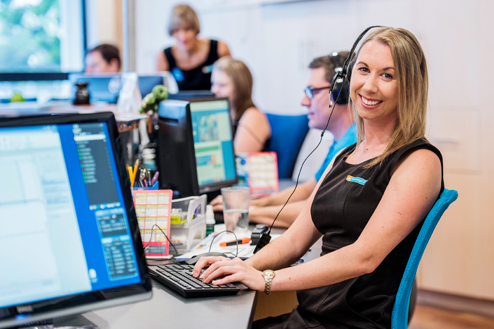 About Travstar Booking Requests
There are some things a computer can't do.
We love helping people plan their holidays and we want to make sure we get it right.
Some holiday packages can be quite complicated with multiple tours and accommodation, pick-up times and extras.
That's why every booking made through a Travstar Website is checked by our local consultants.
It takes a little bit longer to get your tickets but we want to make sure everything is going to run smoothly for you.
How long wil it take to get my tickets?
Our team are alerted to new booking requests as they come in. During office hours you can expect to have your tickets within an hour or two.
After office hours your tickets may take up to 12 hours to arrive.