TRUSTED LOCAL BUSINESS
Our office is located here in Cairns and our team know all about the experiences, tours, attractions & things to do in Cairns.
We can help you research and book the right experiences for you Cairns holiday.
Each month we book and look after hundreds of guests travelling to the Cairns.
If are looking for some advice, we are only a phone call away. We can help you find and book the ideal experience for your family & friends.
Call our local office and speak with one of our friendly consultants on 1800 663 396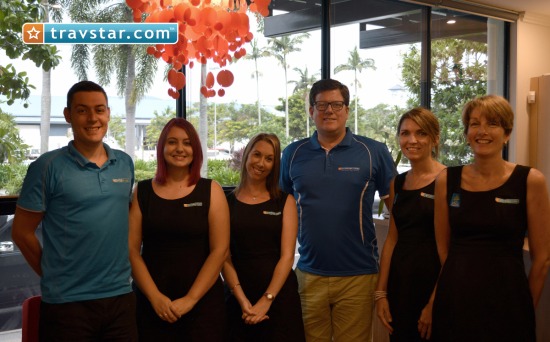 CAIRNS TESTIMONIALS
I appreciated the personal touch when replying to booking requests. I felt quite secure in purchasing from Travstar.
Posted By Leslie Holland
Very easy booking on line from UK with helpful advice from travel consultant, everything went to plan and was easy to follow, thanks for all your help
Posted By Kevin Lawrence
3 Day Reef, Kuranda, Cape Trib Package
I booked the 3 day tour package for my son & I before we left Sydney and it was a great way to see the best of Cairns in a few days. I was very happy with the service we received each day, the transfer bus was always on time and the drivers were wonderful. They had a great knowledge of the local area which made the travelling informative and fun. I would recommend this trip to any tourist visiting Cairns with limited time.
Posted By Jenni Clarke
Extremely happy with everything. Highly recommend your service to all. kind regards Doug Sparkes Wonderful personal service.
Posted By Doug & Val Sparkes
Romantic Reef and Rainforest Package
Thank you travstar for again for another unforgettable experince.
Silly oats lodge was 5 star quality with both their facilities and service! They made us feel welcome and created such relaxing atmosphere. The scenery was beautiful and natural and we were happy with all the inclusions especially their breakfast menu!!!
Posted By Rebecca Attuell