ARTS & CULTURE
NorthSite Contemporary Arts



After many years of presenting contemporary artistic practice in Far North Queensland, KickArts has relaunched and rebranded as NorthSite Contemporary Arts. With a long history as a key destination for locals and visitors who wish to experience the vibrant contemporary
visual culture of Tropical North Queensland. Delivering a dynamic and diverse exhibition program, with cutting-
edge contemporary visual art from our region, nationally and from abroad. The NorthSite Shop animates the Centre
on a daily basis and is a focal point for viewing unique, high quality works of art, craft and design from
Australian and international artists. NorthSite Contemporary Arts is a resident company within Bulmba-ja (formerly Centre of Contemporary Arts
Cairns). Entry to the galleries and shop is free.
Visit Kickarts Website
Cairns Art Gallery
Housed in a landmark heritage building the Cairns Art Gallery is the region's premier destination for exhibitions featuring the work of National and International artists, with a strong focus on local and indigenous works of art. The gallery incorporates four individual exhibition spaces inside the building, showcasing an average of 30 exhibitions per year. The Gallery Shop has a wide range of functional, artistic, local and designer gifts including quality prints, glassware, jewellery and ceramics. There is also a great cafe out the front.
Visit Cairns Art Gallery website
Tanks Arts Centre
Situated in the Cairns Botanic Gardens precinct, just 4km north of the city's CBD, the centre is an iconic and innovative, multi-use, contemporary arts facility creatively housed in three converted World War 2 naval oil storage tanks, and set amidst a lush rainforest backdrop. Incorporating music, performance, theatre and visual art with community events, Tanks is one of the most highly distinctive and dynamic spaces in the country.
Visit Tanks Arts Centre website
By day, Tanks presents an array of visual arts from local artists in the Tank 4 Gallery. Not to be missed is the Tanks Sunday Markets.Held on the last Sunday of every month from April to November, the markets showcase a blend of local art, craft, produce, vintage clothing, collectables and local natural health products and treatments.
By night, Tank 5 comes alive to a range of performances. With a strong focus on music, expect to see the best of Australian and international artists working in a range of forms from country to hip hop. Tank 5, features rugged, old oil-stained poles and sheer concrete walls that imbue the venue with a Gothic charm that makes for a unique visitor experience.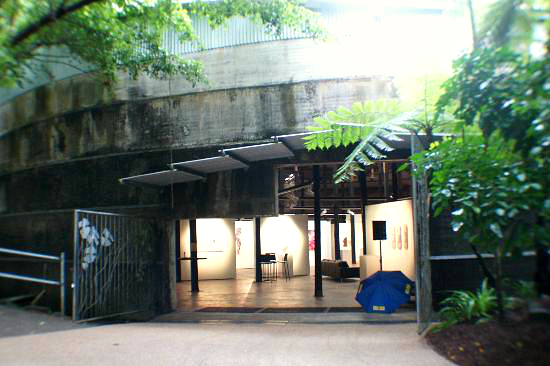 Tjapukai Aboriginal Cultural Park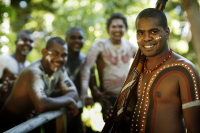 Tjapukai Aboriginal Cultural Park offers a showcase of indigenous culture. Immerse yourself in traditional Tjapukai culture and learn to play a didgeridoo, throw a spear and catch a boomerang. One of the world's oldest living cultures is brought to life by Aboriginal dance performances, storytelling and various interactive crafts and activities.
Three theatres exist in the Tjapukai Aboriginal Cultural Park. In the Cultural Parks Creation Theatre, actors and holograms combine to tell stories of the Tjapukai people. The History Theatre plays movies above the original inhabitants of Australia, and the Dance Theatre hosts the live performances. The Tjapukai Aboriginal Cultural Park also is home to a museum that is filled with artefacts, some 40,000 years old. Full day, half day and night touring options available as well as a number of packages available for visitors who wish to take in multiple attractions, such as the Skyrail, the Kuranda Scenic Railway, Cairns Tropical Zoo, or Green Island.
Doongal Aboriginal Art & Artifacts
Specialising in local Aboriginal Rainforest Art as well as artwork from indigenous Central Australian artists, the Doongal galleries also hold perhaps the world's largest collection of locally made didgeridoos and boomerangs and a large range of other traditional artifacts are also available. Galleries are located in Cairns and Kuranda, each having their own unique twist of artists.
Visit Doongal Gallery website
Cairns Australian Armour & Artillery Museum

Military buffs will be spoiled for choice at the Cairns Australian Armour and Artillery Museum, featuring over 90
tanks, armoured vehicles and artillery pieces. Sourced from accross the globe, this is the biggest collection of
this nature in the southern hemisphere, with armoured vehicles and tanks sourced from Germany, the former
Czechoslovakia, Britain, America, Australia, Canada, Russia and France.

All exhibits at the museum are either fully restored or have been preserved. The collection includes tanks, anti aircraft guns, field guns, combat equipment, armoured vehicles, anti tank vehicles, howitzers and self-propelled guns from both world wars with a particular focus on WWII. A new custom built Shooting Gallery is due to open in 2015 and visitors can take an army style adventure inside an authentic decommissioned Vietnam era APC.
Visit Cairns Armour museum website
Cairns Civic Theatre
The Cairns Civic Theatre was the first purpose-built theatre in regional Queensland. More than 100 shows are presented at the theatre each year, ranging from local amateur shows to national and international touring extravaganzas. Whether your interest is in comedy, dance, drama, circus or another form of live entertainment, the chances are you can see it at the Cairns Civic Theatre. Visit Cairns Civic Theatre website
Rondo Theatre
The Cairns Little Theatre, a community-driven, incorporated amateur theatrical company, has been operating since 1954. Performances are held in the Rondo Theatre, located in the cultural precinct in Greenslopes Street, in the Cairns suburb of Edge Hill. A Season of Plays at the Rondo has become established as a regular feature of the theatre calendar in Far North Queensland.
Visit Rondo Theatre website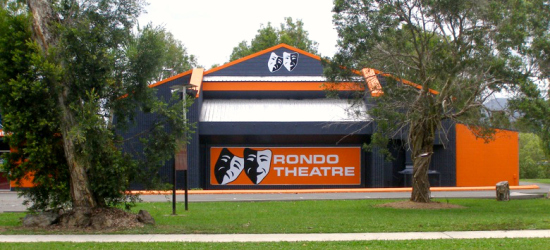 Jute Theatre Company
Jute is an award-winning Theatre Company well known for driving the development, co-production, national and international touring of contemporary Australian plays.This significant regional theatre company provides the perfect recipe for a great night out. Enjoy intriguing writing, superb acting, amazing sets and unique Australian stories.
Visit Jute Theatre website
Cairns Potters Club
The Cairns Potters Club hosts two fairs annually - Mothers Day and Christmas. This provides an opportunity for members to market their work and become involved with the craft scene. Sales and exhibitions also take place at various other times throughout the year eg. The Cairns Show. The club is actively involved in Community activities, a Bicentenary Mural in the City Place & Muddy's Playground. These activities provide a good opportunity to work with other potters in a community setting. The Club also organises a biennial four week National Exhibition, "The Melting Pot" showcased at the Cairns Regional Gallery.
Visit Cairns Potters Club website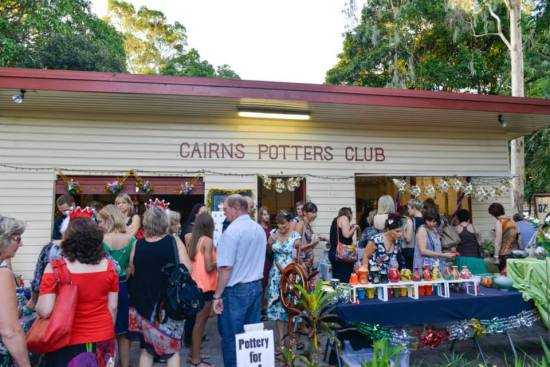 Cairns Esplanade Public Art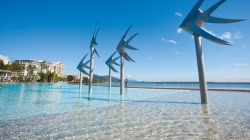 There are many artworks located in the Cairns Esplanade parklands and around the Lagoon. Probably the most iconic and well know of all artworks is 'The Woven Fish' located in the Lagoon. The Woven Fish are large sculptures and are interpretations of the smaller woven fish forms that are often woven in palm leaves. The weaving of palm leaves is a tradition that dates back centuries in the Torres Strait. At the northern end of the Esplanade entrance poles with designs and motifs are a combination of patterns and markings used by the indigenous craftspeople, artisans and artists from the Torres Strait. 'Telescopus' by Dominic Johns is a three-dimensional sculptural work which references the mangrove mud whelk that is common to the inter-tidal mudflats.

'Esplanart' is a themed exhibition held annually August - October. The theme for 2014 was 'Mud Sweat and Frontiers': Celebrating human achievements and growth in an unforgivingly harsh, yet stunningly beautiful environment'. Installations included the 'Fishmonger' by Lynnette Griffiths, 'Washed Ashore' by Jill Chism and volunteers from Tangaroa Blue, and 'Harbouring the Past' - a sculpture that reflects on both the past and the present of Cairns.
Visit Cairns Esplanade website

Cairns Indigenous Art Fair - CIAF
The Cairns Indigenous Art Fair is a unique three-day event that merges an art fair with a celebration of Queensland Aboriginal and Torres Strait Islander cultures. During this time the Cairns Cruise Liner Terminal and city of Cairns comes alive with Indigenous dance, music, theatre, visual arts, curated exhibitions, performance, children's programs, film and media, artists talks, symposiums and forum. CIAF is an event committed to providing an ethical marketplace for the sale and purchase of Queensland Indigenous art and supporting the career development of Queensland Indigenous artists, and is fast becoming one of the truly iconic features of the Far North Queensland events calendar.
Visit Cairns Indigenous Art Fair website
Cairns Festival
The Cairns Fesitval is a vibrant, progressive and collaborative arts festival that aims to showcase the many talents of our creative community in all sorts of artistic mediums. The program line up includes Culture, Art, Theatre, Music, Photography, Performance, Drama, Dance, Grand Parade & Fireworks and Carnival on Collins. There are plenty of activities the whole family can enjoy for free. 'Chalk The Walk' is a popular attraction on the Cairns Esplanade with Champion Pavement Artist Jenny McCracken chalking up amazing pieces and encouraging the community to take part on the Esplanade.
Visit Cairns Festival website
Cairns Ukelele Festival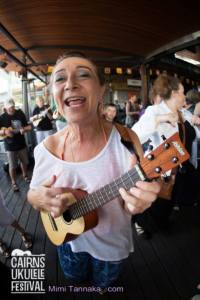 The Cairns Ukulele Festival is an annual festival held the first week of July in Cairns. The festival runs for over a week and comprises a range of events, such as a charity uke art exhibition, concerts and workshops by ukulele royalty from around the globe as well as sightseeing tours. It gives everyone a chance to experience stardom with community acts like TUGS (Tableland Ukulele Group), HUMPS (Harvey Bay Ukulele Musical Pickers and Strummers), BUMS (Brisbane Ukulele Musicians Society), SCUM (Sunshine Coast Ukulele Masters), and the Panton Hills Ukulele Club strutting their stuff on stage at Fogarty Park.The festival has been referred to as 'the happiest festival in the world' causing a record number of smiles on the faces of the 5000 people estimated to have attended!
The Cairns Ukelele Club has regular social meet ups suited for all levels of players every 1st and 3rd Tuesday at Billy's Coffee at 7pm, and a jam session held every Wednesday at Strait on the Beach at Holloways Beach and every Friday at the Crown Hotel (cnr Shields and Grafton Streets). All welcome.
Visit Cairns Ukelele website
Red Chair Gallery

The Red Chair Gallery located in The Pier, is a space for local Cairns artists to showcase and sell their
artwork. ALL Original Artworks from over 30 local Cairns artists are featured including sculpture, jewellery,
paintings, drawings, prints, mosaic work, crafts, handbags and handmade garments. Find unique gifts and artworks
starting from $5.
Visit Red Chair Gallery website
Cairns Creative Crawl

Cairns Creative Crawl is a guided tour of creative places. Hop on board the arty bus - an open top double decker
bus in search of artistic talent and unique product. The Creatice Crawl takes place on selected dates throughout
the year and provides an opportunity to have a chat with local artists and to meet other creative people. Venues
include KickArts galleries and shop at the Centre of Contemporary Arts, Cairns Potters Club, Tropical North
Queensland Institute of TAFE, UMI Arts, Cairns Botanic Gardens Visitor Centre, Handmade Cans, Flying Monkey Cafe
and the Red Chair Gallery. The Creative Crawl takes place from
5pm - 10pm, contact Cairns Creative Partnerships for bookings and upcoming departures.
Visit Cairns Creative Crawl website

Chinese Heritage

Chinese immigrants were among the first permanent settlers in Cairns. In 1880, Cairns Chinatown was established
in Grafton Street (formerly Sachs St). Early settler families were key merchants, businesspeople, farmers and
agriculturalists who contributed substantially to the economic development and stability of the region. Chinatown
was filled with many women who lived and raised families there and the place offered goods, services, produce,
recreational activities and an early form of "oriental tourism" sought by both Chinese and Caucasian visitors
alike.

Today, despite only a few remaining buildings associated with the former Chinatown, restoration and expansion of a Chinese Heritage Trail in Grafton Street, has secured the preservation of cultural heritage through interpretive devices, signage, artwork and plantings. The annual Cairns Chinese New Year Festival showcases North Queensland's cultural diversity and rich Chinese heritage through music, dance and cultural performances, food, market stalls, and a parade featuring the tradional Chinese dragon, lions and the 12 Zodiac Animals. The Chinese New Year Street Festival is held annually in February in the heart of the orignal Cairns Chinatown precinct - Sachs St ( now Grafton St.).
Visit Chinese Association website
Mareeba Multicultural Festival

Join the world at Mareeba Multicultural Festival. An annual event since 1999, the Mareeba Shire is home to people
from some 64 different nationalities and cultural backgrounds. The festival highlights this diversity and
harmony. Attracting around 6,000 people, the day starts at 10am with a parade, followed by non-stop entertainment
including Aboriginal, Torres Strait, PNG, Filipino, Italian, Spanish, Albanian, Greek, Polynesian and Australian
performers. Enjoy non stop music, dancing and entertainment, stalls, displays, food from all over the globe,
raffles, rides and more! The perfect weather in Mareeba and free entry make for a fantastic day out.
Handmade Cans
Handmade Cans is a community shop for lovers of all things handmade a hub for local creatives. Featuring more than 40 local craftspeople and artists, the store is full of quirky items with everything from art, ceramics, homeware, furniture, clothing and bags, to jewellery, toys, stationery, music, books, skincare, preserves – just about anything made with two bare hands! Fairly priced and full of love! above all, Handmade Cans is about having a good time and sharing the wealth of ideas and creativity on offer in the Far North.
Visit Handmade Cans website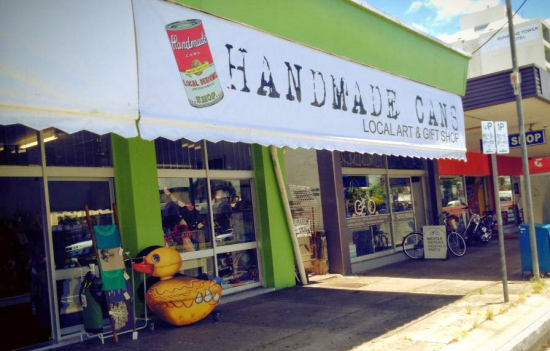 Flying Monkey Cafe & Art Gallery
The Flying Monkey Cafe and Art Gallery is located next door to Handmade Cans and offers fantastic coffee, ever-changing local art exhibitions and colourful buskers. The decor is cool - mismatched and recycled. Exhibitions are on a three-week time slot, with two timeslots for a local, recognised artist and one for an emerging artist or someone who doesn't even identify as an artist. Its a hub for creatives and a monkey a must-do for caffeine-and-culture hounds!
Visit Flying Monkey Cafe website

crate59
crate59 is an artist run initiative that aims to support local young and emerging contemporary artists. This contemporary art studio/gallery in Cairns houses the crate59 Gallery, Billy's Coffee, and 9 resident artists' studios that extend behind the café/gallery space. Local artists manage their own monthly exhibitions and events. Cairns' favourite smiling barista, Billy's Coffee shares the crate59 space and supports all its goings on. The cafe space operates as Billy's Gallery for informal artist-managed exhibitions through application. There's art on the walls, a mish-mash assortment of styles of old furniture, with some cobbled together out of pallets and milk crates and the best tasting coffee in Cairns! Billy's Coffee & Gallery is open Mon - Fri 6.30am - 12.30pm.
Visit crate59 website

End Credits Film Club
End Credits is a not for profit film club that organises sceenings of current and classic independent, Art House, film festival touring programs and outdoor cinema events. Regular features as part of their Unseen Cinema series take place in Jute Theatre at CoCA - The Centre of Contemporary Arts. Starry Night Cinema is End Credits' outdoor screening program which takes place seasonally at the Cairns Botanic Gardens and Sugarworld Gardens.
Visit End Credits website