THINGS TO DO IN CAIRNS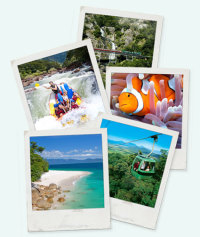 Cairns is the gateway to the Great Barrier Reef & Daintree Rainforest. The area is brimming with a multitude of attractions that are popular amongst locals and international visitors. Whether you seek adventure, serenity, or something in between, you will find it here in Cairns.
Though the Great Barrier Reef & Rainforest is arguably the largest drawcard to Cairns, there is also an abundance of other activities to be found. Cairns is also near fabulous beaches, wildlife parks, botanical gardens, waterfalls and other self drive and guided activities that can keep any vacationer happily entertained and occupied for the duration of their stay.
FIND YOUR CAIRNS EXPERIENCE
ALL ABOUT CAIRNS
GREAT BARRIER REEF TOURS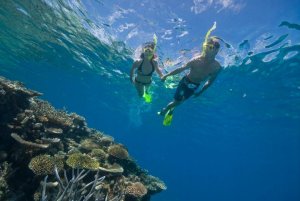 There are many tours available for visitors to the Great Barrier Reef, the largest coral reef system in the world. Adventurous travellers can go on one of many snorkelling excursions where they may enjoy the coral marine wildlife of the Great Barrier Reef first hand. Even those who may not be experienced swimmers can take part in underwater activities, as most tours offer flotation devices, glass bottom boats and even semi submarines and personal underwater vehicles such as the scubadoo. All reef activities are carried out by guides who are accustomed to working with experts and novices alike.
Visitors who wish to view the Great Barrier Reef from atop the water can take advantage of sailing and yachting excursions, which are plentiful in Cairns. Entering a glass bottom boat gives tourists a glimpse into the sea life without ever having to get their feet wet. For an even more unique experience, there are several helicopter flight tours that fly guests over the reef in for a spectacular birds eye view. Marine life such as manta rays and green sea turtles are visible through the crystal clear waters.
Great Barrier Reef visitors can choose tours that last only a few hours or the entire day. Because of the great number of available options, Cairns guests are truly able to pick a tour that suits them perfectly, whether they are hoping to go for a swim, enjoy a boat trip, or relax on a tropical island.
Kuranda Train & Skyrail Tour
Travelling from Cairns to Kuranda, the Kuranda Scenic Railway & Skyrail tour is an adventure that absolutely cannot be missed by anyone visiting Cairns. Dating back to the early 19th century, the Kuranda Scenic Railway is an almost two hour ride that takes visitors from Cairns to Kuranda. The train glides its passengers through the Barron Gorge National Park, through the tropical rainforest, goes past waterfalls, travels over 40 bridges, and enters 15 tunnels.
The Kuranda Train station is located next to the Skyrail. This allows visitors to choose to travel to Kuranda on either the train or the Skyrail, and return over the same terrain from a very different perspective. Between trips to and from Kuranda, tourists will find great delight in the quaint village, where they can shop and eat before returning to Cairns.
The Skyrail travels 7.5 km (nearly five miles) and reaches heights of up to 40.5 metres. The Skyrail lifts tourists over Barron Gorge National Park. Persons enjoying the Skyrail will experience such views as mountains, tropical rainforests, waterfalls, and gorges, and will stop at two mid-stations where visitors can view a historical display, study the Rainforest Interpretation Centre, and take pictures of the scenery from a lookout and a boardwalk.
The trip from Kuranda to Cairns on the Skyrail is 1.5 hours. After exploring the attractions and activities in Kuranda Village, visitors can choose to return on the Skyrail. Both the Kuranda Train and Skyrail are popular amongst all travellers, as they give adventurous holiday makers a chance to relax for a morning or afternoon while viewing some of the most beautiful scenery in the world. Voted Australias Best Major Tourist Attraction, persons of all ages are welcome on the Skyrail, and gondolas are wheel chair accessible.
Tjapukai Cultural Park
Cairns Tjapukai Cultural Park is an unmatched event that teaches visitors and locals about the history of the aborigines of Australia. The largest employer of native Far North Queensland Australians, the area hosts traditional songs and dances, carried out by members of the countries indigenous population.
Three theatres exist in the Tjapukai Aboriginal Cultural Park. In the Cultural Parks Creation Theatre, actors and holograms combine to tell stories of the Tjapukai people. The History Theatre plays movies above the original inhabitants of Australia, and the Dance Theatre hosts the live performances. The Tjapukai Aboriginal Cultural Park also is home to a museum that is filled with artefacts, some 40,000 years old. Tourists can also attend and take part in boomerang throwing demonstrations and can sample native foods.
We offer a number of packages are available for visitors who wish to take in multiple attractions, such as the Skyrail, the Kuranda Scenic Railway, Cairns Tropical Zoo, or Green Island.
Daintree Rainforest Tours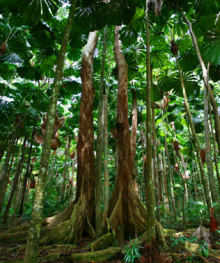 Daintree Rainforest is the largest area of natural rainforest in Australia. The Daintree Rainforest is open to visitors who wish to go hiking in an unspoiled environment, who wish to relax on its beaches, or who desire to see the areas wildlife. The Daintree Rainforest contains the largest percentage of endangered plant and animal species of any place in the world.
There are many tour options available from Cairns to the Daintree Rainforest, depending on the type of adventure you are after tours can include air-conditioned coach rides, hiking tours, wildlife cruises and four wheel drive excursions. Some tours even give visitors a chance to view crocodiles close up in their natural environment, and taste the natural fruits that grow in the rainforest. Tourists who prefer to have a leisurely, pampered experience of the rainforest even have the option of staying at one of the luxury resorts.
Island Day Trips
There are many islands that the Far North Queensland holiday maker can enjoy visiting. Whether for a few hours, a day trip, or an overnight stay, the islands make for a nice, relaxing getaway for those seeking peace and quiet, yet offer water sports and adventure for outdoor enthusiasts.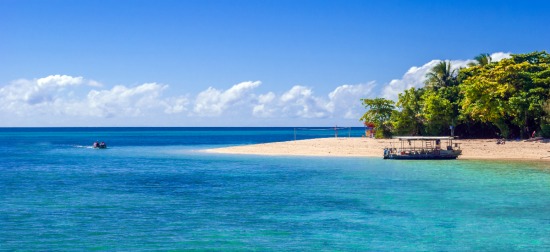 Fitzroy Island is a national park that is approachable by catamaran from Cairns. Visitors are welcome to go hiking through the national park area, walk along the nature trails, and visit Fitzroy Island Lighthouse. The islands beaches are completely unspoiled and the Great Barrier Reef comes close to the shore, providing excellent access for snorkelling. Fitzroy Island also contains a luxury resort and camp sites for those wanting to experience the nature of the island firsthand.
Green Island is a protected marine park surrounded by rainforest and coral reef. Cairns visitors can experience this 6,000 year old coral cay by taking an exciting yet leisurely ride in a catamaran for less than an hour through the Coral Sea. Those wanting to spend the bulk of their stay on Green Island can do so at Green Island Resort. Persons only wishing to spend a day at Green Island are welcome as well. Snorkelling, diving, swimming, and exploring the Great Barrier Reefs only rainforest existing on a coral cay, are activities that can be enjoyable by anyone visiting Green Island.
White Water Rafting
White water rafting is at its best in Cairns. This extreme sport can be enjoyed by groups travelling together or by individuals. Because everyone on a white water rafting tour must work together, you are likely to become fast friends.
All of the white water rating tours depart cairns daily and include accommodation transfers. There are varying degrees of rapids on the different rivers such as the Barron River, the Johnstone River, the Russell River, and the Tully River. The Barron River provides a good introduction to raftng, whereas the Tully River provides all the excitement for those adventure thrill seekers.
White water rafting tours can be booked in half or full day excursions. Most tour companies will provide transfer to and from accommodations with lunch included in the white water rafting package price. While white water rafting may not seem to be for everyone, as with anything, the suitability can only be determined once it is tried. Some tour companies specialise in working with individuals who have never before gone white water rafting and quickly turn those people into rafting enthusiasts.
Tandem Skydiving
Tandem Skydiving in Cairns makes for one of the most memorable trips imaginable for travellers . The skydiving adventures in Cairns vary in location and offer different height jumps from 10,000 feet to 14,000 feet. Tandem skydiving packages allow anyone to enjoy the adrenaline rush of the a skydive without prior experience.
Most of the skydiving packages offered in Cairns include transportation to and from accommodation as well as a short, scenic flight over the area around Cairns, giving skydivers the ultimate view of the Great Barrier Reef, Cairns city or the Far North Queensland rainforest.
Licensed skydivers who wish to skydive on their own should remember to carry logbooks and skydiving licenses. Those travelling with young people should note that children under the age of 14 are not permitted to skydive in Australia. There is also a weight limit of 100 kg (220 lb).
Bungy Jumping in Cairns
Looking to inject some adventure and excitement into your trip to Cairns? There is no better place to experience bungy jumping. Taking a bungy jump is an absolutely safe way to see the rainforest of Australia, from an entirely different perspective. AJ Hackett do their best to make visitors feel as comfortable as possible as they encounter their bungy jumping experiences.
People who wish to face their fears with friends can choose a jungle Minjin Swing instead of, or along with the bungy jump. Up to three people at a time can ride on the Minjin Jungle Swing, The hang glide harness can fit up to three people who swing through the air at speeds of up to 100 kph (60 mph).
One Day Dive Trips from Cairns
If you are a certified diver spending a vacation in Australias Far North Queensland, you simply must spend at least one day on the Great Barrier Reef. Experienced divers can take part in a number of diving trips available from Cairns. Take advantage of the beauty and splendour of the Great Barrier Reef by spending a day scuba diving in this amazing natural area.
With the abundance of tour companies in and around Cairns offering snorkelling and diving adventures, a visitor to this part of Far North Queensland has more options for diving trips than almost any other facet of the holiday. It would in fact be difficult to not find a diving company that is suitable for everyone.
Though a multitude of diving tour companies exist, all offer the same beautiful views of the underwater life that exists in the Great Barrier Reef. Other features that are included with various diving tour companies are snacks or meals, whale encounters, glass bottom boat tours, presentations or talks about the reef, cruises, island stops, and transfers to and from hotels and other accommodation.
Cairns Liveaboard & Overnight Dive Expeditions
Whether snorkelling, deep sea diving, or swimming with the marine life, you can find an overnight dive expedition that suits your tastes, skills, and deepest desires. For one night or several, you can sleep aboard a liveabord vessel over night while basking in the beauty of the Great Barrier Reef during the day. The Cod Hole is a particularly beautiful and most famous dive spot along the Ribbon reefs, which is frequently visited by dive expeditions.
Overnight dive expeditions typically include all dive and snorkelling equipment, so travellers to Cairns do not have to concern themselves with packing their own gear. Divers also receive all meals while diving as well as access to diving instructors who can guide even the least practised of divers.
Four Wheel Drive Tours
If you want to go places where other types of tours simply cannot take you, then sign up for a four wheel drive tour. Though vacationers can hire their own four wheel drive vehicle, attending a tour that is led by a knowledgeable guide who has experience navigating the rough terrain is likely to be the most enjoyable tour for all.
Four wheel drive tours from Cairns range from multi-day camping adventures up to Cape York, to one day adventures to the Daintree and Atherton Tableands. Each tour is quite different from the next, with some taking place in the Daintree Rainforest, along the coast, or elsewhere. Many four wheel drive tours include several stops during the trip, both for dining and for sight seeing. Some of the stops might include guided rainforest walks, swimming, beach walks, tropical fruit tasting, canoe trips, or Aboriginal Rock Art Tour.
Sea Kayaking Tours
Sea kayaking tours from Cairns are certainly something to write home about. The two most popular kayaking tours are around Fitzroy Island and from Palm Cove to Double Island. One of the benefits of sea kayaking tours is that they can venture into areas where others simply cannot go, therefore kayakers can experience views of Australias Far North Queensland that other, less adventurous souls, can only hear about.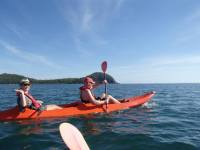 Both one day and multi-day sea kayaking tours are available from Cairns, Mission Beach and the Daintree. Kayakers are treated to less than one hour and up to four hours of kayaking on any given tour, and are supplied with food and accommodation for overnight adventures. Kayaking is best for visitors travelling in pairs, as the kayaks accommodate two people plus equipment.

Though no kayaking experience is required for any of the kayak excursions in Cairns, it is best for individuals attending these tours to be in a healthy physical state, especially for the longer tours.
Cairns Fishing Tours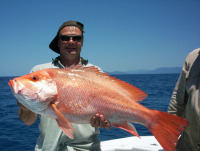 Not all water sports involve the physical exertion of sea kayaking or a white water rafting. Some water sports enthusiasts are satisfied to go fishing, and they can experience some of the best fishing in the world around Cairns. Visitors to Cairns have their choice of fishing in estuaries, rivers, lakes, or off-shore on the Great Barrier Reef. Travellers can hire a boat from the Cairns Marina and go fishing on their own but, the ultimate Cairns fishing experience is to take part in a fishing excursion led by guides who know where the biggest and the best fish in Cairns are located.
Cairns Horse Riding Tours
Horse riding tours are among some of the best and most exciting ways to view the natural landscapes of North Queensland close up while experiencing the adventure of Horse Riding.
People new to horse riding are welcome, as all horse riding tours include riding lessons and are led by a seasoned guide and riding instructor. The horses on these trips are also used to riding with people of all skill levels and are gentle and easy to ride, making for a fun tour experience for all.
The horse riding tours in the areas around Cairns are nearly as diverse as one can imagine. Some horse riding tours take place in the bush, some in the rainforest, some in the mountains, and some along the beach.
Cairns Hot Air Ballooning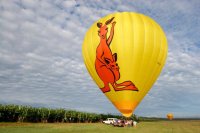 Hot air ballooning over the Atherton Tablelands gives visitors the best of all worlds. The ability to float in the air in a relaxed, almost euphoric fashion while viewing nature in all its splendour is an unforgettable experience. Those who are fearful of heights need not worry; because all hot air ballooning in Australia is regulated by the Civil Aviation Safety Authority and all hot air balloons are equipped with GPS navigation systems, passengers can be assured that they will always be afforded the utmost in safety. Hot air Ballooning Cairns
The hot air balloon providers that operate in Cairns depart from near the small town of Mareeba, located close to Karunda, and offer breakfasts with their rides and free transfers from cairns accommodation. Some hot air balloon companies also offer champagne breakfasts and digital images from the trip.
Unlike many other hot air ballooning locations throughout the world, the climate in Cairns allows for ballooning year round, which means virtually any day of the year, tourists are able to schedule a trip on board a hot air balloon. It is also quite rare for hot air balloon adventures to be cancelled in Cairns due to weather concerns.

Paronella Park
Jose Paronella built Paronella Park in the early 20th century, along with the grand Spanish castle and all of the other structures that grace Paronella Park, one of the most visited sites in all of Cairns. The castle is now in ruins, but the rest of the park is just as resplendent as ever.
Paronella created a 47 step Grand Staircase to connect the upper and lower parks, which contains waterfalls, rainforest, and lush gardens. The Tunnel of Love is a long tunnel that can be explored by those wishing to experience the beauty of its opening at Teresa Falls and the micro-bats that live inside the roof.
Visitors may also tour the Cottage, once occupied by the family of the Castles builder, it is now a museum. Guided tours of Paronella Park are available, though visitors are welcome to explore the grounds on their own if they so wish. Paronella Park recommends that tourists schedule at least three hours to take in all there is to see at this beautiful location.
Those who plan return trips to Cairns should note that the admission price for Paronella Park covers admission to the park for an entire year. A few day tours from Cairns include Paronella Park in the itinerary.

Hartleys Creek Crocodile Adventure Park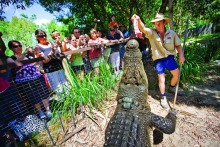 Hartleys Creek Crocodile Adventures, between Palm Cove and Port Douglas, is popular with tourists and locals alike. Hartleys Creek is in the foothills of the MacAlister Range, and gives its visitors more than just crocodiles, though they are the largest draw. Tourists at Harleys Crocodile Adventure can also see native wildlife of Far North Queensland and can view a variety of habitats and wildlife.
A safe venue for viewing the dangerous Australian crocodile, Harleys Crocodile Adventures offers walks through the wetland, wildlife presentations, cassowary and koala feedings, and crocodile and snake shows. Boat cruises depart throughout the day within Harleys Lagoon. Visitors are welcome to drive to Hartleys Creek Crocodile Adventures on their own, or they can take part in a tour from Cairns that provides transportation to and from the attraction.

Cairns Crocodile Cruises
Experience the excitement of viewing Australias crocodiles with no danger attached. Cairns Harbour Cruise takes visitors on a calm water cruise along picturesque Trinity Inlet to gain a close encounter with these fearsome creatures in their natural environment. Conveniently departing twice daily from the Reef Fleet Terminal in Cairns, it is the ideal trip for nature lovers and bird watchers.

Australian Butterfly Sanctuary Kuranda
The Australian Butterfly Sanctuary in Kuranda can be a fun way to spend a few hours. The Australian Butterfly Sanctuary is Australias largest live butterfly display. Entering the Australian Butterfly Sanctuary allows guests to be surrounded by hundreds of butterflies in an enclosed location. Visitors are welcome to tour the sanctuary on their own or take part in a 30 minute, guided tour.
The Australian Butterfly Sanctuary also includes a museum with examples of butterflies from all over the world as well as a behind the scenes look at the butterfly breeding laboratory. For a nominal fee, tourists can purchase a Kuranda Wildlife Experience Pass that gets them into the Australian Butterfly Sanctuary as well as Bird World and Kuranda Koala Gardens.

Birdworld Kuranda
Birdworld Kuranda is not only meant for avid bird watchers; it is a destination for all who love the beauty of winged wildlife, and who may wish to experience these beautiful animals in a personal way. Birdworld offers the largest collection of birds in Australia in a free-flying atmosphere, with 45 different species of native birds along as well as birds from around the world to total over 75 different species of birds.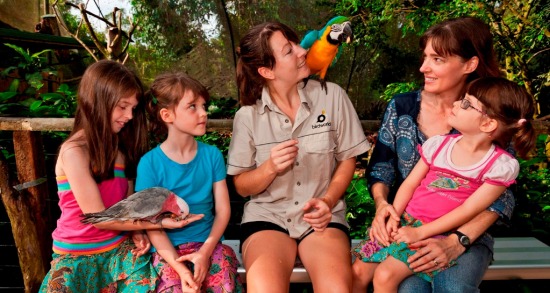 Birdworld visitors can simply enjoy watching the many birds or they can interact with the birds by feeding them and having their photos taken while the birds perch on their shoulders. A bundled package is available for Bird World, Kuranda Koala Gardens, and the Australian Butterfly Sanctuary. Persons who purchase this Kuranda Wildlife Experience Pass can save a great deal of money if they are planning on attending all wildlife areas.

Koala Gardens Kuranda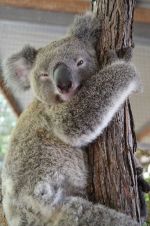 Koala Gardens in Kuranda are a fascinating, entertaining, and educational location for Australian tourists of all ages. Kuranda Koala Gardens offers visitors the chance to view koalas in their natural habitat. Tourists are invited to cuddle the koalas while having their pictures taken. Though the focus of Kuranda Koala Gardens are clearly the Koalas, animal lovers may also view freshwater crocodiles, kangaroos, wallabies, wombats, and Australias first walkthrough snake house.
Vacationers who wish to visit Kuranda Koala Gardens, the Australian Butterfly Sanctuary, and Bird World may purchase a Kuranda Wildlife Experience Pass that is good for all three wildlife parks.
Cairns Markets
Most people believe that a holiday simply would not be a holiday without a visit to local markets. This is certainly the case with the markets in and around Cairns. Attended by locals to the area and visitors as well, open air markets are friendly and welcome to all.
Rustys Market is located in Cairns City and is open on Fridays, Saturdays & Sundays, where you can find a great number of produce and wares sold by locals. Rustys is famed for its wide selection of foods, both locally grown and imported.
Port Douglas Markets are popular with Cairns tourists who can find a wide variety of items from vendors located throughout Far North Queensland. Open only on Sunday mornings, visitors can find everything from handcrafted jewellery to fresh coffee. Located near the Coral Sea, the Port Douglas market is well worth scheduling into a Cairns vacation.

3 DAY PACKAGE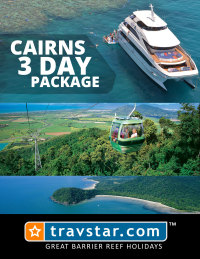 3 Day Reef, Kuranda & Cape Trib
Experience Tropical North Queensland in 3 Days.
Great Barrier Reef
Kuranda Train & Skyrail
Daintree Rainforest
This Package is hard to beat starting at $410 per person!
JUNGLE SURF
Only in the Daintree Rainforest!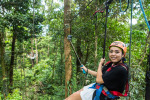 Experience the first of its kind in the world - a Human Hamster Wheel hoisting you up to the first platform on your Jungle Surfing Canopy Adventure! Embark on a voyage of discovery and adventure on this fully-guided ziplining tour between six tree canopy platforms. More Info..
SKYRAIL CABLEWAY
Glide on Skyrails' new Diamond View Gondolas.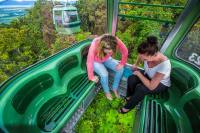 11 Brand New Diamond View Gondolas not only provide guests with panoramic views of the rainforest canopy, but also offer the unique perspective of looking straight down from the treetops to the forest floor. More Info..
HOT AIR BALLOON
Take an exhilarating balloon flight in the world's largest commercial hot air balloon.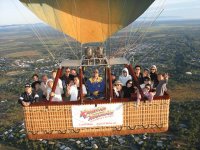 Did you know the Atherton Tablelands, Queensland, is the most popular place in Australia to float in a hot air balloon?
More Info...
SPECIALS
Sorry, no specials currently available. Check back soon!