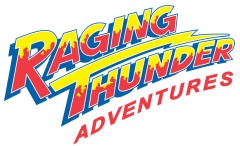 Fitzroy Island Adventures
Raging Thunder Adventures was established in 1984 and is the is the largest adventure company in Australia.
Raging Thunder specialise in adventure eco tourism in the World Heritage listed Wet Tropical Rainforest and the Great Barrier Reef.
Tours offered by Raging Thunder include white water rafting, sea kayaking, hot air ballooning & Island Day trips. Raging thunder also have a range of tour packages including Skydiving , bungy jumping and Outer Barreir Reef tours from Cairns.
Each year Raging thunder cater for 150,000+ passengers. The company place great emphasis on safety and training. Raging Thunder have pioneered many of the Swiftwater Rescue procedures and techniques used around the world. The guides are trained to this high standard which includes Wilderness Medivac training, by our wholly owned subsidiary, Rescue 3 Australia; a franchise of the world renowned Rescue 3 International.
Raging Thunder Balloon Adventures Pty Ltd is the holder of an Air Operator's Certificate Number C520686-10, issued by the Civil Aviation Safety Authority, Australia.
Raging Thunder offer adventures designed for travellers looking for that light adventure through to your adrenalin seeking thrill seekers. White water raft some of the best rivers in the world year round, sea kayak over the Great Barrier Reef and fly the largest hot air balloon in the world, to mention but a few of the activities that await you.
1 Listings Found for Fitzroy Island Adventures
Viewing 1 to 1 of 1 listings