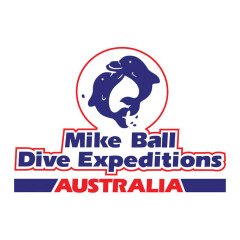 Mike Ball Dive Expeditions
Making Divers Smile - Since 1969
Since 1969 Mike Ball has been setting standards in the Australian dive industry with exceptional 3, 4 and 7 night liveaboard expeditions to the Great Barrier Reef and Coral Sea.
Mike Ball Dive Expedition's Spoilsport is Australia's most awarded liveaboard dive vessel. Seven of the 11 person crew are dive masters or instructors. Spoilsport's twin hull design maximizes comfort in all weather conditions. All cabins are twin occupancy ranging from budget to premium. Expeditions suit both novice divers and experienced divers seeking exciting big fish and shark action. Experienced divers are catered for with an Open dive deck and solo diving policy, with no restrictions on bottom time.
In 2004 Mike Ball was the world's first liveaboard operator inducted into the International Scuba Diving Hall of Fame.
In 2009 Mike Ball celebrated 40 years of service to the diving industry.
Listings Found for Mike Ball Dive Expeditions